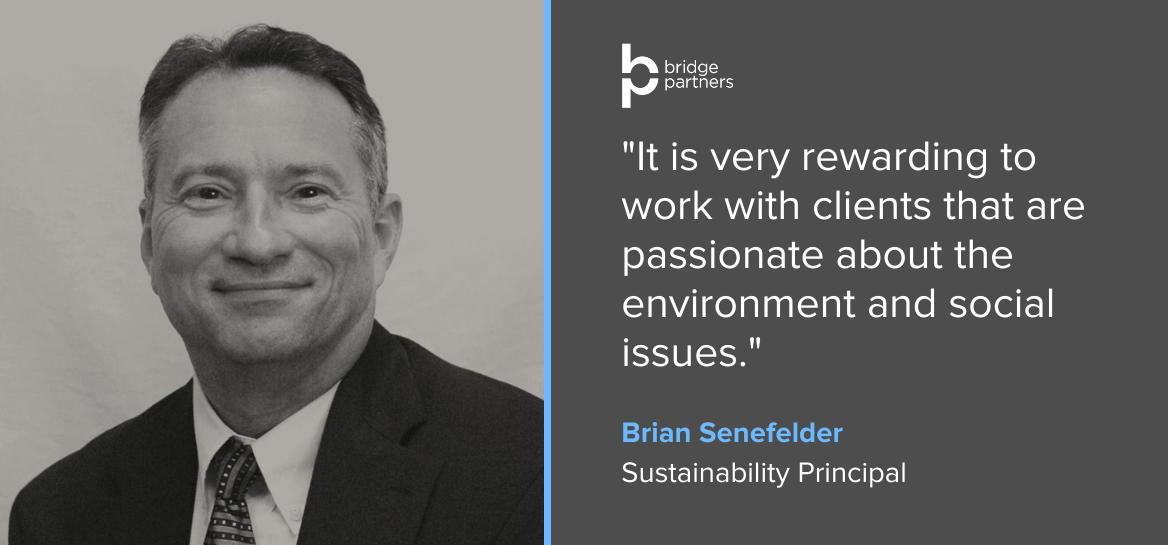 Brian Senefelder, Sustainability Principal, has had a storied career in ESG and brings a wealth of knowledge and experience to the Bridge Partners Sustainability team. Brian is a certified TRUE Advisor with competence in zero waste and circular economy implementation strategies. He is also a US Trustee for a charity to improve the quality of life for orphaned and vulnerable children displaced by the AIDS pandemic in Africa.
On top of his subject matter expertise, he is also highly engaged with our company culture helping drive forward the Bridge Partners Eco-Adventure game, the all-company Earth Month celebration that gamifies different activities and education for colleagues to participate in, bringing together our remote workforce in a united way.
LEARN MORE: About Brian's background
What interests you in sustainability?
I began my career in environmental, health, and safety 40 years ago because I could see the negative effects and harm that industrialization and population growth was having on our land, water, air, and people. I wanted to make a difference to try to do what I could to protect the environment and people, not just for the present, but for future generations. We now have scientific evidence that climate change is real and is negatively affecting our lives and business on a global basis.
Sustainability used to be a popular buzzword. I have seen amazing progress over my career, but this is a critical time and a call to action to address climate change and other environmental issues. I now have a 3-year-old grandson and I want to do what I can, so he grows up in a better world.
What are some ways you are personally sustainable?
We recycle, compost, and purchase green goods when possible. Simple actions can make a difference like turning off lights when not needed, driving less, using less water, and picking up trash when you see it.
In your opinion, how does sustainability contribute to developing a modern workplace?
Sustainability should be an integral part of the modern workplace in terms of the environment, social, and governance aspects of a business. It reduces costs and risk, improves your brand, helps to attract and retain talent and customers, as well as being a driver for innovation. It's the right thing to do.
How does it feel to work for a firm that prioritizes sustainability?
I am very proud to work for Bridge Partners because of the commitments to sustainability that the company made last year that were driven by the staff in the sustainability team. Our CEO is passionate about the environment and you need buy-in and leadership from the top down to be successful.
LEARN MORE: About Bridge Partners' Corporate Social Responsibility
The company doesn't just celebrate Earth Day but creates awareness and engages the staff on sustainability topics over a month-long period. Quite impressive.
What have you learned from working on sustainability projects?
Companies are changing and they are seeing the business case for sustainability and taking action. It is a tremendously complex issue and presents significant challenges to our clients. But an imperative if you want to remain viable in the future.
The SEC recently proposed rule changes that would require companies to include certain climate-change disclosures in the registrations and reports. So, the time for action is now. It is very rewarding to work with clients that are passionate about the environment and social issues.
READ MORE: Brian's article on waste generation and management
What advice would you give to someone interested in joining the sustainability practice at Bridge Partners?
I would tell them that they have an opportunity to work with some of the brightest, most passionate people and clients to have a significant positive effect on the planet.
We fill the gap between business and science. Not only do companies need to have a sustainability strategy, but they must also execute that strategy and we help them do that very well. You can have a career with Bridge Partners.
KEEP READING: See what inspires other Bridge Partners colleagues about sustainability
Bridge Partners helps organizations make measurable progress on their sustainability journey and increase positive impact. Businesses achieve their most ambitious corporate sustainability commitments with our expertise. Contact us to move seamlessly from setting commitments into action to create long-term measurable impact. Learn more about our Sustainability practice here.
---
READY TO GROW YOUR CAREER?
Bridge Partners delivers real results for the world's largest tech and cloud companies — but our work starts with a commitment to each other and our communities. Our flexible, people-centered modern workplace attracts purpose-driven professionals looking for work that integrates with their lives while making a recognizable impact for top-tier clients. As a respected collaborator in the tech industry for 15 years, we win by developing consultants who care — about our work, our clients, our communities, and each other. Whether we're meeting in person or across time zones, people make our workplace. And our workplace helps make our work better.
Learn more about what it's like to work at Bridge Partners at our Careers page and follow us on LinkedIn for the latest company news.
Accelerate Your Business
Our B2B marketing experts can help you build, tune, and run a world-class marketing engine that turns the dials on growth. Let's talk.