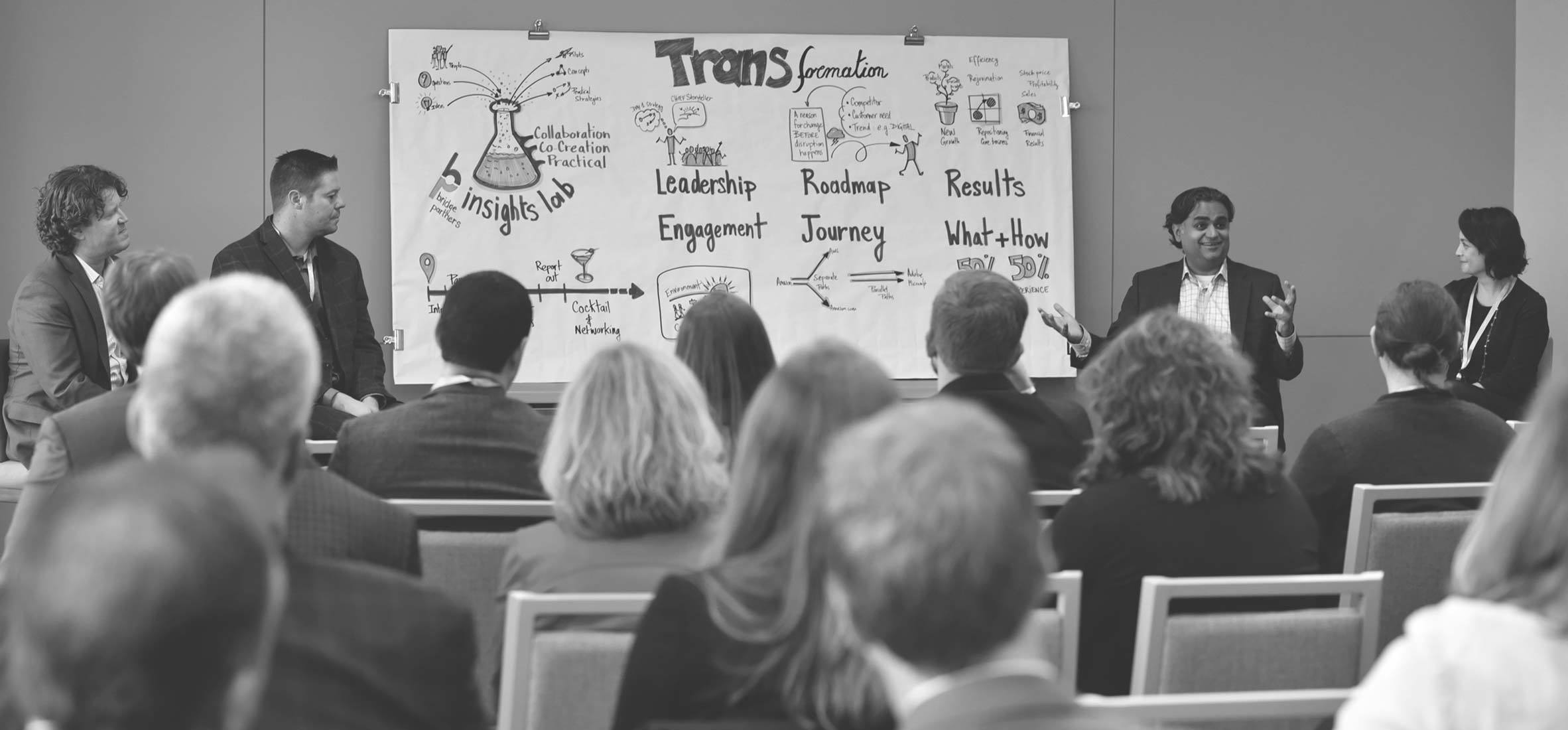 A few years ago, we started to tinker with an idea that could draw in senior business leaders from diverse business groups and industries in the form of a lab. The concept was built on a growing need from our customers that were seeking inspiration, intelligence, and best practices from other companies successfully navigating business transformation. Many of these companies were in the process of evolving their business models and their organizational design, and engaging their customers in more meaningful ways.
We observed that our most successful customers did not limit their purview to their closest competitor, but expanded their perspective to adjacent industries to evaluate strategies and strengths. Much of this learning came in the form of second- and third-party research, drawing from analyst firms and public company communications, sprinkled with first-party relationships and connections. As a result, we became laser-focused on how we could create an environment to develop these first-party relationships, share insights, and create more value for our clients.
We hosted our most recent Bridge Insights Lab in Chicago a few weeks ago with 35 senior business leaders from across financial services, education, technology, professional services, commercial real estate, consumer packaged goods, and manufacturing. In the true form of a lab, we created a place for practice, observation, and testing of practical strategies to drive business outcomes with an eye toward three areas: Creating Value in Customer Experiences, Driving Performance in the Modern Workplace, and Interpreting Digital Value.
We created a place for practice, observation, and testing of practical strategies to drive business outcomes
Four industry leaders joined us as panelists: Nina Marini, Global Marketing Director for Microsoft's CityNext Initiative; Praful Saklani, Pramata's Founder and CEO; John Marshall, Global Head of Digital Advertising Technology for HP; and Dan Lyne, Senior Vice President of CBRE. The panel covered a number of noteworthy topics. However, two in particular resonated in conversations throughout the lab. The first thread focused on developing a company culture adept in transformation, ignited by strategy and fostered by leadership (Satya Nadella's leadership principles within Microsoft surfaced as an example). The second thread focused on the ongoing challenge of properly defining and measuring value as data continues to proliferate across edge devices, IoT, and mixed reality. How do companies truly take advantage of advanced analytic techniques to improve business outcomes and customer experiences?
Stay tuned. We'll announce the location for our next Bridge Insights Lab in 2018! Please email me if you would like to receive more info at that time.
Accelerate Your Business
Our B2B marketing experts can help you build, tune, and run a world-class marketing engine that turns the dials on growth. Let's talk.