Insights
Drop the Detail, Distill the Content, Deliver Winning Executive Communications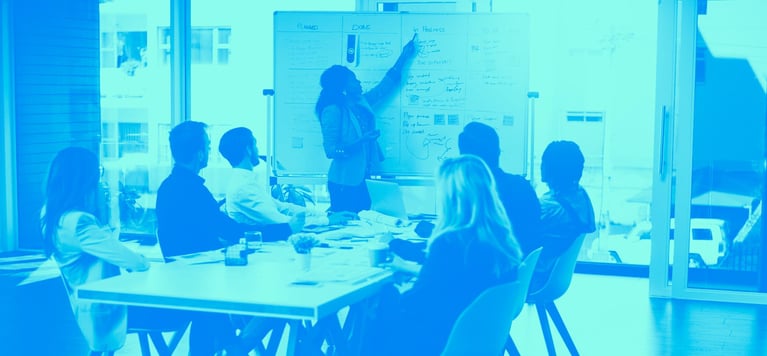 The best project managers concentrate on the details. Their laser focus on every data point and deadline is what makes them so good at delivering high-quality projects on time and on budget. Yet, when it comes to briefing executive leadership about those very projects, this tendency toward detail can work against them.
Projects need informed sponsors, and PMs are the single best source for accurate, up-to-date information. But how can project managers ensure that critical updates don't get lost in translation? By dropping the detail and distilling the content.
Here are five tips for creating executive-level updates:
1. Understand your audience.
At some point, most of us tire of creating multiple status reports, so it's tempting for PMs to reuse what's already been delivered to other team members and stakeholders. Yet these status reports rarely satisfy top management. Take the time to craft status reports specifically designed for a senior audience. That includes making sure they're free of technical jargon. Even if you work at an engineering firm, the company's leaders aren't necessarily engineers, so reports should be free of industry acronyms and terminology.
2. Focus on what really matters.
Identify the key facts of interest to senior leadership. How does the project impact overall business performance? Do the selected KPIs demonstrate how the project meets the mark? Are there troubling trends that need to be flagged? What executive-level support is needed? Keep the presentation high-level and the focus tight.
3. Be concise.
We all know that executives are pressed for time and have lots of competing priorities, so any sponsor update needs to get right to the point. If a template that has worked in the past is available, use it and to stick to the limits it imposes – and resist the urge to decrease the font size to squeeze in more information!
4. Paint a (simple) picture.
Charts, graphs, and tables simplify complex concepts and, when done right, can tell the story at a glance. Apply the 30-second rule and test it: Have someone not steeped in the day-to-day details look at the graphics and briefly describe what they see. Streamline any complicated visuals that only distract from the story. Another pro tip: Be sure the colors used provide sufficient contrast on any viewing screen.
5. When in doubt, ask!
If the project sponsor is a numbers person, double down on the analytics. If they are a visual thinker, put more time into the graphics. There may even be a particular format or color they prefer – anything done to help customize the message is effort well spent.
Executive briefings can be a challenge for anyone. But by heeding these five pointers, you can deliver the kind of executive updates that keep your projects moving forward and support the team at every level.
Bridge Partners invests in consultant success with Bridge Partners University, a set of learning experiences facilitated by internal experts. We provide onboarding, learning events, short courses, and other resources to help consultants expand their toolkits, connect with peers, and accelerate time to value for our clients. To learn more, please see our previous blog post, Creating a Culture Obsessed with Learning.
Written by Jess Burgamy and Tristan Leghorn.
Accelerate Your Business
Our B2B marketing experts can help you build, tune, and run a world-class marketing engine that turns the dials on growth. Let's talk.