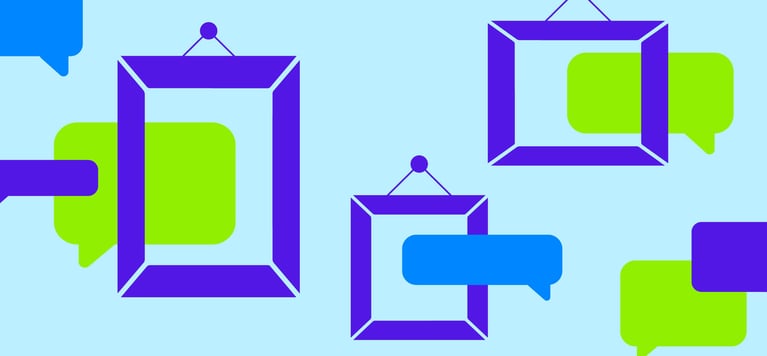 Selling a complex solution doesn't require equally complex storytelling. This is especially true when you're hoping to advance a customer conversation one step closer to considering your solution, and ideally, moving from an evaluating to a purchasing state of mind.
It's not an easy task to frame up a conversation well and get to the strongest, simplest points. I'm reminded of how challenging it is when I assess how many times it took me to frame up this blog.
One of my back pocket tools is avoiding what I call a 'frame within a frame' when architecting a solid sales and marketing presentation. So just what do I mean by a frame in this context? A frame is the construct and glue to manage the collection of points in your story.
It's hard to know where to look and what path to follow. When you know a lot about a subject, it's challenging to cut away from the intricacy and focus the story on its most essential points. You're effectively creating a mind-maze when you pop customers in and out of various frames. As you move your story among technology trends, solution areas, benefit trees that nestle consideration paths, campaign themes, and ideation concepts, your customer gets lost. When they have no idea what to attach to, customers likely forget, lose track of, or dismiss your story altogether because it's simply too complex to navigate.
One key to a well-constructed frame is the rule of three, which many studies identify as the ideal number of points to make. You'll want to use no more than three points to frame up your solution or service to make a relevant customer connection, differentiate from alternatives, and organize the key messages and proof points that deliver on your claims. If it's done right, your customer can absorb the three most important points they need to remember.
More reading about the magic of 3? Check this out: Three Is the Right Number for Persuasion
What does this mean in practice?
Spend over half your development time thinking about what you want to say and how you are going to frame your story. Complex stories don't sell complex solutions. It's translating the value of the solution to relevant customer needs that will sell every time.
Entering into the conversation in a meaningful way is critical. It's important to let you go of what you want to say and zero in on what customers want to hear and what they care about.
Don't drink the Kool-Aid! Make sure your frame works. Bring in your sales team, and let them trial it. They'll let you know if it resonates and moves their customer conversations forward.
Accelerate Your Business
Our B2B marketing experts can help you build, tune, and run a world-class marketing engine that turns the dials on growth. Let's talk.