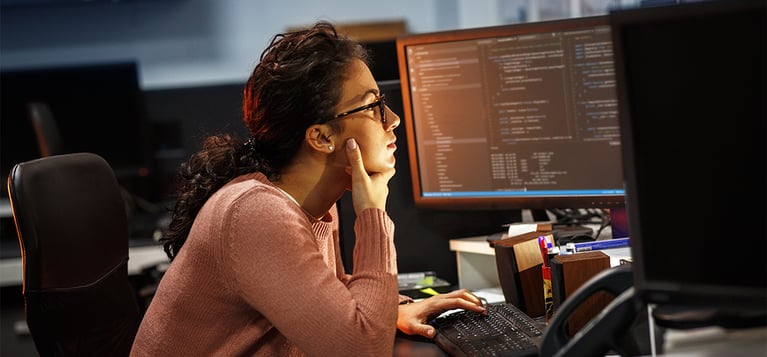 Picture this: a petite woman with long, dark hair wearing a black t-shirt and hot pink jeans amongst a sea of men in gray hoodies. That was me in 2013. Sitting in a room with fifteen male engineers, discussing a product under development. That image is burned in my brain, taking me back to a children's puzzle book that prompts 'choose the one that doesn't match the others.'
The technology industry has traditionally been a lonely place if you identify as a woman. It gets even lonelier as you progress into leadership roles. Over the years, you tend to become numb to the ratios and carve out a path for success, with a combination of skills, grit, and a sense of humor.
However, what's happening now is not laughable. According to the Bureau of Labor Statistics, more than 2.3 million women have left the U.S. workforce since the beginning of the COVID-19 pandemic. This is four times the rate of men. When you also consider the longer–term trend in the technology industry where only one in four technical roles is held by women (Statista), it's frightening to think what our industry will look like.
So, Where Are All the Women?
Women earn about half of science and engineering degrees. Many then move into STEM jobs. Unfortunately, they don't stay. After about twelve years, approximately 50% of women leave their jobs in STEM fields, according to women-in-tech statistics for 2020.
This illustrates that we have a major problem in retaining women once they enter STEM fields. Being the only woman in the room can be stressful and challenging. Pressures can start mounting from lack of advancement. Or perhaps, as a woman, you get the familiar feeling that you're not doing enough at work or in your personal life. You start to ask yourself "why am I here?" This questioning becomes even more urgent when children or elder parents need health or other support, such as the changeover to remote schooling during the COVID-19 pandemic.
A Reason to Stay
Capital One's Women in Technology Survey addresses what motivates women to leave the tech industry. They surveyed 200 women who left the tech industry after three or more years, as well as 250 women who have remained in the tech industry for at least eight years and occupy senior roles. Here is what they found:
Most

women who stay in tech (73%) said they considered leaving their tech careers at some point because of limited opportunity for advancement (27%), unfair compensation compared with male peers (25%), and little support of management (22%)

.

Teasing apart this issue further,

why

are women staying in an industry where they often don't feel welcome?

The

main reasons women cited for staying in tech included being good at their work (56%), the enjoyment of working with other technologists (44%), and their love for the work (43%).

Similarly, women who stayed and succeeded in tech are twice as likely to say that peer groups of other women, both within and outside their companies,

are

very important for work success (45%) compared to women who left (23%).
To summarize, the women who continued in tech careers found a sense of purpose:
CapitalOne. "CapitalOne Women in Technology Survey." https://ecm.capitalone.com/DevExchange/assets/PDFs/WIT_Report_2019.pdf. Accessed 6 March 2021
Tacking Action Every Day
Leaders in technology have the power to help retain women as part of their organization and to attract new talent. It is imperative that values are modeled daily around inclusivity, building peer networks, opportunities for advancement, training, work-life balance, and good (fair) pay. These values should be 'table stakes' in 2021 and going forward.
But more can be done. Supporting women in your organization to define and activate their sense of purpose can materialize in many ways. One of the reasons why women join technology organizations is because we like solving meaningful problems which can benefit individual people and society. Purpose through work can also come from team culture and activities, such as volunteer events where employees can give back to their communities.
Our purpose at Bridge Partners is to create opportunity and impact for our customers and for each other
This purpose is demonstrated through our results—more than half of our employees are women and 50% of our leadership roles are held by women.
At Bridge Partners, we have several rewarding communities and events that are employee-led including our Bridge-In–Action program where team members volunteer their time in the community and run giving campaigns for important causes. We also can work on impactful projects with our clients such as technology for social impact, sustainability, and accessibility.
If you'd like to take action to help women stay in (or return) to the workforce in the United States, give your support to initiatives such as the Marshall Plan for Moms, which tackles paid family leave, affordable childcare, and pay equity. Another way to make a difference for women in technology is to join a group such as Women in Cloud, which is a community-led economic development organization with the mission of helping women entrepreneurs create $1 billion in economic access and opportunity by 2030. Bridge Partners participates as a sponsor to help support this impactful goal.
Moving Forward
As we continue to act with purpose, we should evaluate what opportunities we have in our organizations and professional networks to give women more access, the potential for advancement, and meaningful work. Let's not fade to gray, but instead encourage a rainbow of perspectives and experiences within our teams!
Join Bridge Partners for International Women's Day 2021, as we choose to challenge the status quo to positively reshape our future. Join us here.
Accelerate Your Business
Our B2B marketing experts can help you build, tune, and run a world-class marketing engine that turns the dials on growth. Let's talk.