Insights
Innovation in Case Studies: Tips to Empower Tech and Cloud Enterprises with Customer Evidence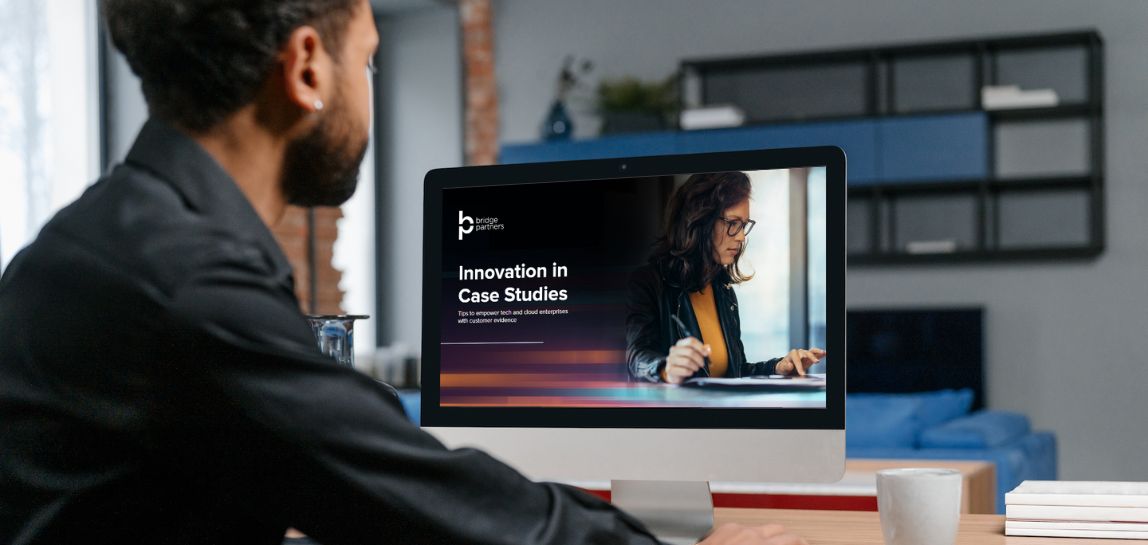 In the dynamic landscape of technology and cloud services, where competition is fierce and attention spans are short, the ability to tell compelling customer stories is the secret sauce that sets the winners apart from the rest. We're excited to introduce our latest eBook, "Innovation in Case Studies: Tips to Empower Tech and Cloud Enterprises with Customer Evidence," where we unlock the art of crafting customer evidence that truly resonates and drives growth.
At Bridge Partners, we understand the challenges that B2B marketers face. That's why we've compiled decades of expertise into this comprehensive guide, offering you actionable strategies for each stage of the customer evidence program. Whether you're aiming to strengthen your credibility, inspire your audience's imagination, or simply enhance your marketing effectiveness, this eBook has something for everyone.
What's Inside:
1. Strategy: Ask yourself tough questions about discoverability and merchandising
Explore innovative ways to organize your case studies to ensure that your best stories are accessible to your audience.
Trust your prospects to envision how the impact of your solutions can translate to their unique business needs.
2. Creation: Putting humanity first
Embrace the art of human-centered storytelling and how to make your customers the heroes of their journeys.
Dive into the reader's perspective to truly connect and create a lasting impact.
3. Format: Beyond the basics
Discover the potential of different content formats like animations, infographics, and interactive e-guides.
Elevate your storytelling game and stand out in a crowded market by offering fresh and engaging perspectives.
4. Delivery: Starting with impact
Challenge the norm and consider leading your engagements with your most compelling case studies.
Learn to immediately capture credibility and leave a lasting impression on your audience.
5. Promotion: Empowering Sellers and Partners
Maximize the value of your case studies beyond web publication.
Empower your sellers and partners with the resources they need to confidently showcase the impact of your solutions.
READ MORE: The Art of Using Data Storytelling in Customer Evidence
Deliver a game-changing customer evidence program
Real-world stories of how your products or services have transformed businesses can be your most powerful marketing tool. They offer credibility, relatability, and a tangible way for potential customers to envision the value your solutions bring to their operations.
In this fast-paced world, where tech marketing demands innovation, we hope this guide rejuvenates your customer evidence approach. It's time to elevate your storytelling, differentiate your brand, and captivate your audience with narratives that resonate.
Ready to transform your customer evidence strategy? Read the eBook now and embark on a journey toward customer evidence that speaks volumes, resonates deeply, and drives remarkable growth.
Partnering with Bridge Partners: Your path to success
Ready to take your customer evidence program to new heights? With our proven delivery model and seasoned experts, we're committed to helping you scale customer evidence programs, enhance new product launches, and embrace innovative formats. Contact us or view our solutions to learn more.
Accelerate Your Business
Our B2B marketing experts can help you build, tune, and run a world-class marketing engine that turns the dials on growth. Let's talk.