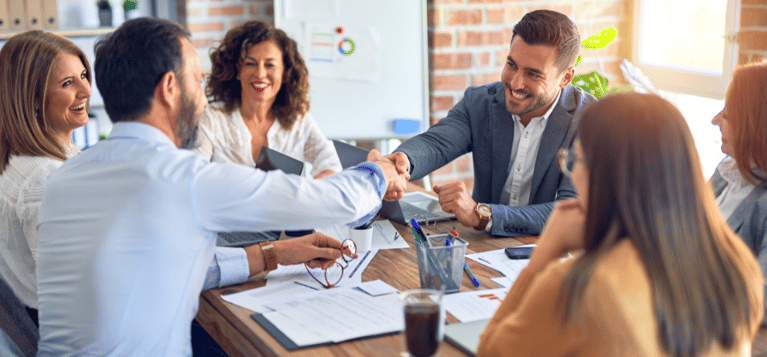 It's exciting to bring two innovative companies together with a compelling joint value proposition that carves out a unique point of view and piece of the market. Double the brain power. Double the brand equity. What's not to love?
The growing number of partner go-to-market campaigns—and the increased attention those efforts are receiving within leading companies—is driven in large part by strong market demand for cloud marketplace solutions. 83% of technology buyers said they are likely or extremely likely to purchase through a cloud marketplace in the future.
But if you're a partner marketing manager or an alliance lead in a tech company, you know that joint campaigns can easily fall flat, because, well, they can also come with double the complexity. Whether it's something as fundamental as agreeing on the desired outcome, or something as tactical as tagging leads with the correct campaign ID in Salesforce, there are opportunities for missteps all around. Here are five keys to getting it right.
Secure your CARGO
If you somehow find yourself operating with unlimited resources, no time constraints, and minimal accountability, you can skip this section. In fact, give yourself the day off. For the rest of us, we'll need to make sure we have clear and realistic goals and objectives (aka CARGO).
The reality is that it takes a lot of work to identify content contributors and creative resources, get both partners aligned on messaging and branding, secure funding, and publish your first piece of co-branded content. But if you think that a single white paper or webinar will allow you to reach a new market, build awareness, acquire leads, educate, nurture, and close deals, you'll likely end up missing your targets. Focus is power. This is even more true when two companies aspire to execute and track a joint campaign.
The more realistic and concise your campaign goals and objectives, the easier your decision-making will be—targeting and media channels to lead flow, nurture, and sales handoff. If you're aiming for results further down the funnel (e.g., Sales Qualified Opportunities, deals won), it becomes even more important to align all stakeholders on target Key Performance Indicators (KPIs). Your partner might feel like a particular level of media investment should drive 50 SQOs. But if your historical conversion rate data from like-type campaigns tells you that five SQOs is a more likely outcome, you'll want to have that conversation sooner than later. This way, everyone has the same expectations, and those expectations match the investment.
Right size your investments (and sweat the small stuff)
Content, enablement, paid media, and events are just a few of the ingredients to your joint GTM. It's important that these components are right-sized against each other and against your goals and objectives. If your primary KPI is total MQL volume, you're going to need at least one compelling piece of hero content and a paid media budget to drive lead acquisition. But don't forget the nurture experience! Assuming you'll require multiple touches to reach the lead score threshold for an MQL, you'll need a plan to bring prospects along for the ride. And you'll need to coordinate with your marketing operations and digital teams (and possibly others) to ensure proper attribution. Otherwise, you may very well drive hundreds or thousands of leads, with no MQLs to show for it.
Don't get distracted by shiny objects
You have a solid understanding of your ideal customer profile and the key members of the buying committee. Your partner does too. But something interesting happens when two partners come together—both parties start expanding their target audience. I've seen this happen time and time again. It goes something like this:
Acme Corp.: "We typically sell into IT orgs, but we've seen some success lately with finance teams."
ABC Co.: "Yeah, that's interesting, I like that. We've actually seen some procurement titles showing up at our events lately. Maybe we can add those too."
Before you know it, what were originally the primary target roles (or industries) have become an afterthought, lost in the shuffle. This has far-reaching impact, diluting content, eroding top-of-funnel lead quality, and stifling downstream conversion.
Tell a compelling joint story
Everyone agrees that content is important. But too often, joint marketing efforts play it safe, falling back on content that the many relevant stakeholder teams will approve. An average piece of content can get eyeballs, and even drive some leads. But will it capture the attention of your audience and build toward future engagement?
There are more B2B marketing messages than ever. For example, webinar consumption, increased 293% at the onset of the pandemic according to On24. Whatever the form factor, your team and partner have worked way too hard to build a joint value proposition, align on a campaign plan, and secure input from product marketing. Don't just settle for creating another piece of generic B2B marketing collateral. Use the opportunity to educate, challenge, or entertain your primary target audience. Take advantage of the storytelling magic that can happen when two brands come together, each with its own technology innovations and customer impact.
Want a tried-and-true formula for creating compelling partner content? Get vertical. In our work with cloud partners, we consistently see that industry-focused content: a) helps align everyone around a tighter narrative, b) performs better in market, and c) makes it easier for everyone involved to avoid shiny objects.
Help sales stick the landing
I like to say that leads are like avocados. Cut open an avocado too soon and you get a flavorless, fibrous, hard-as-an-apple disappointment. Wait too long and you have a brown, mushy mess (contact me to learn more about Bridge Partners avocado advisory services).
Most of our clients will readily admit when they have a longer sales cycle. But it's still human nature to say, "Let's get these leads over to sales right away!" I'm always in favor of SDR outreach if resources are available. But this should happen concurrently to, not in place of, marketing nurture. We recommend at least four additional nurture touches incorporating at least one high-value offer (e.g., demo, self-assessment, ROI calculator, free trial). Now, executing a coordinated marketing and sales nurture motion is easier said than done, especially when two companies are involved. A critical variable to success is providing joint sales readiness resources, so both sales teams have a shared understanding of the co-sell motion, joint solution value prop, and context about how a prospect has interacted with campaign content prior to sales engagement. This piece is often an afterthought or falls victim to budget constraints, but success down the funnel and positive ROI for a campaign only comes when sales teams are well-prepared to catch and communicate with prospects.
Closing thoughts
Purposeful, integrated campaigns with strong sales and marketing alignment require forethought and patience. They also require access to and collaboration with your corporate marketing operations and digital teams—or an agency partner through which you can outsource the tactical execution to bring this strategy to life. Whatever route you take, the important thing is that you do this tactical work before launching your campaign, ensuring that your leads don't turn into mushy avocados.
Want to see better results from your next partner demand gen campaign? Learn more about how we can help launch a successful partner campaign.
Accelerate Your Business
Our B2B marketing experts can help you build, tune, and run a world-class marketing engine that turns the dials on growth. Let's talk.