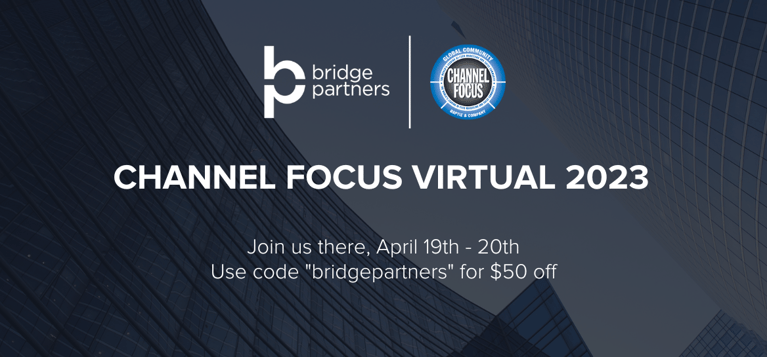 Join us for the Baptie & Company's Channel Focus Virtual Conference on April 19th-20th, 2023, where Bridge Partners will be moderating one of the Channel Focus workshops—designed as intimate, small-group discussions meant to facilitate real problem-solving and peer-sharing with subject matter expert moderators. The Spring event will offer two full days of learning, strategizing, peer-sharing, and networking in a virtual format.
Channel Focus is where the largest executive community of partner and channel experts come together to share the best practices, key trends, and practical steps that will help elevate your channel to the next level. This year's jam-packed conference agenda will feature more than 30 presentations and panels, with over 40 of the highest-level executives working in the channel today.
Use the discount code "bridgepartners" for an extra $50 off. Don't wait—register now to secure your spot and take your channel to new heights!
Who should attend Channel Focus?
If you are involved in any aspect of Channel Strategy, Channel Marketing and Sales, Channel Development, or Channel Marketing Communication—this event is for you.
The conference attracts a diverse audience from both the technology and telecom industries, ranging from Fortune 100 companies to emerging technology pioneers. While some attendees are industry experts seeking to stay up-to-date with the latest trends and advancements, others are marketing and sales professionals who aim to gain insights from the experts. With the participation of speakers and workshop leaders, this event offers a compelling and engaging experience for all.
Get ready for Channel Focus with these resources
---
Unlock the enormous value your partner ecosystem represents by elevating partner programs, enabling the channel, and accelerating pipelines. We've helped hundreds of tech and cloud organizations of all sizes create effective partner programs that deliver results. Our unmatched experience in partner ecosystems and alliances helps you maximize the impact of your partner channel. Get started today.
About Bridge Partners
Bridge Partners works with the world's largest and most innovative tech and cloud companies to unlock billions in revenue. We know sales, marketing, and channel deeply, inside and out. Some organizations specialize in strategy, others in execution. We bridge the gaps between management consulting, marketing agencies, and point solution providers. Founded in Seattle in 2007, Bridge Partners has been recognized as a growth leader and as an employer of choice for top industry talent, subject matter expertise, and professionals at every stage of their careers.
Accelerate Your Business
Our B2B marketing experts can help you build, tune, and run a world-class marketing engine that turns the dials on growth. Let's talk.