News
Leslie Deamer Joins Bridge Partners as Delivery Operations and Transformation Leader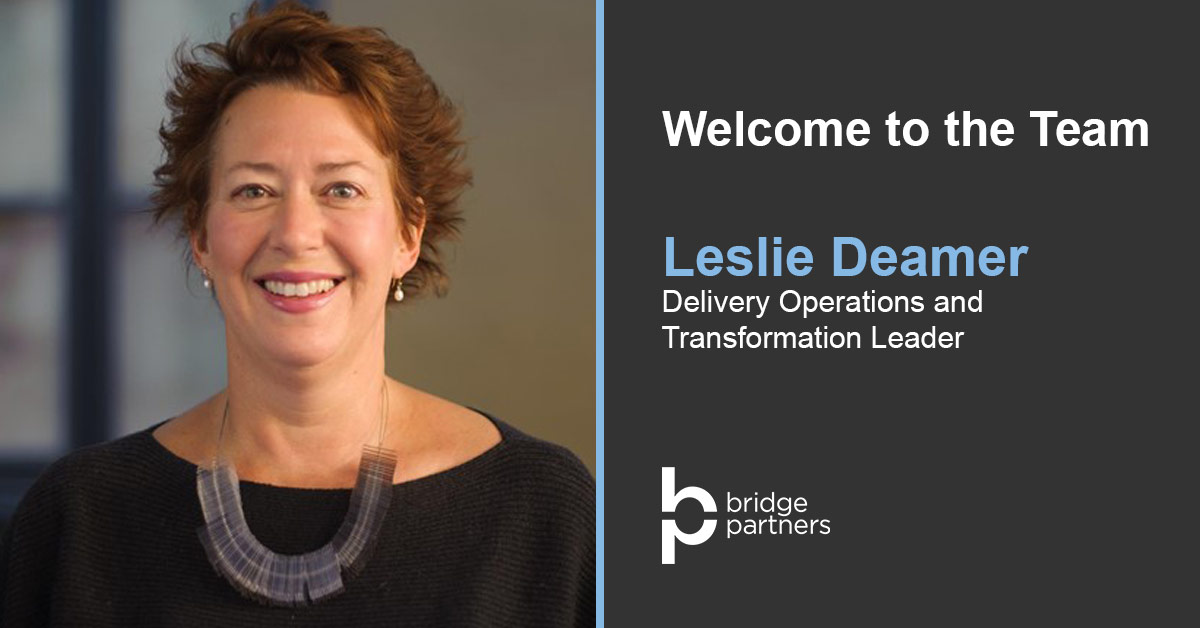 Bridge Partners is excited to announce that Leslie Deamer has joined our team as Delivery Operations and Transformation Leader.
As a member of the senior leadership team, Leslie will lead consulting operations, business transformation, and drive operational excellence across the firm. CEO Richard Albrecht believes the newly created role is critical to the growth of the firm. "As we accelerate growth, customer and consultant experience is job number one, and we're lucky to have Leslie join us."
Leslie brings her passion for change management and continuous process improvement, combined with over 25 years of leadership experience energizing teams, building operations, services, and products, and up-leveling business capabilities.
Prior to joining Bridge, Leslie led global professional services and delivery management teams for pre-to post IPO startups, marketing agencies, technology companies, and Fortune 100 companies such as Google, American Express, P&G, and JPMC. Across the varied roles and organizations, her work always involved solving complex problems, delivering value to clients, partners, and teams, while optimizing businesses. Those qualities have earned her a reputation as an executive team "Swiss Army knife" by clients and peers alike.
Originally from San Francisco, Leslie grew up in Seattle on Queen Anne Hill and spent most of her professional life in New York City. She recently returned to the Emerald City with a pit stop in SF on the way back. She likes to spend her free time cooking for family and friends, outside being active, volunteering for voting rights, world traveling, running BOOM!, a national female leadership cohort she founded, and exploring all forms of design and music.
About Bridge Partners
Established in 2007, Bridge Partners helps the world's largest and most innovative cloud companies create value, grow revenue, activate channels, and connect with customers. Bridge Partners is redefining how businesses operate and are building a modern workplace that promotes leadership at every level, values diversity and inclusion, celebrates remote and flex work, and is a majority female workforce. Learn more about what Bridge Partners experts can do for your marketing engine and business strategy.
Accelerate Your Business
Our B2B marketing experts can help you build, tune, and run a world-class marketing engine that turns the dials on growth. Let's talk.